Bio Link by UPILink.in
Create Your Bio Link In Minutes 🚀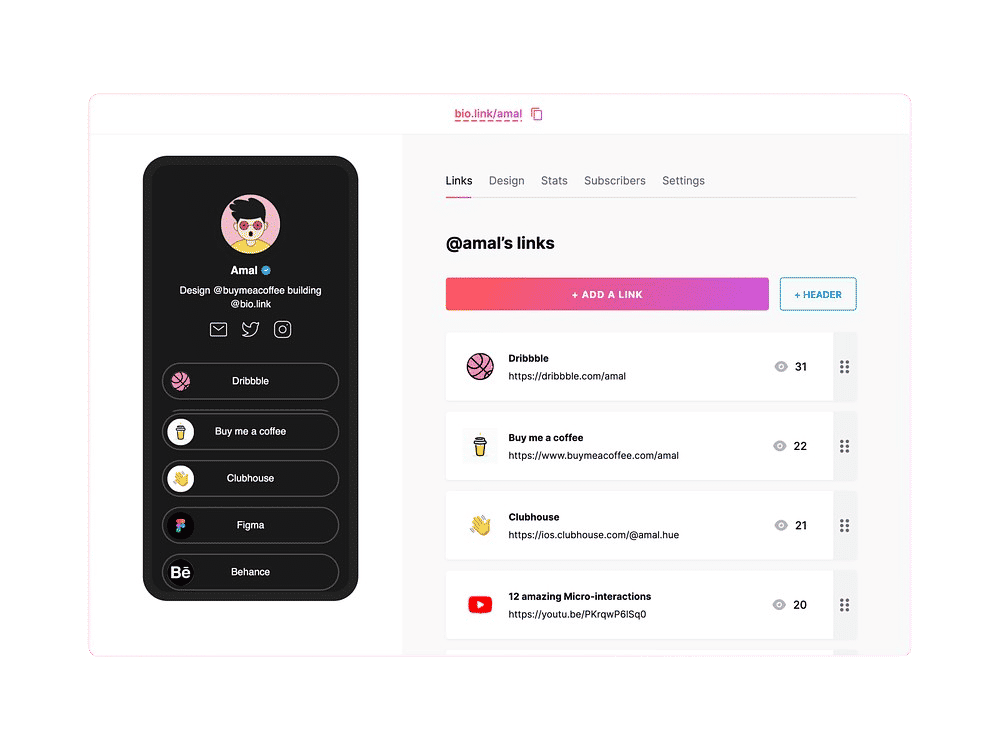 Bio link pages
Bio-Link by Upilink provides a single, organized page to store all your essential links, including your blog, podcast, YouTube channel, chatbots for Instagram, WhatsApp, Facebook Messenger, and more.
Custom colors & branding

Tons of ready-to-use components

SEO settings

Password protection, sensitive content warning
Short URL
Short Long and Ugly Links
Scheduling & expiration limits

Country, device & language targeting

A/B Rotation

Password protection, sensitive content warning
QR Codes
Full-featured QR code generator with user-friendly templates.
Custom colors with gradients

Custom logo

A variety of QR code shapes to select from.

Templates for Vcard, WiFi, Calendar, Location, and more.
Built-in analytics
Experience analytics that are not only user-friendly but also highly detailed and comprehensive, all while ensuring compliance with GDPR, CCPA, and PECR.
Countries & Cities

Referrers & UTMs

Devices & operating systems

Browsers, Languages
Create dynamic, advanced, and downloadable file links.
"Generate dynamic digital contact cards that can be tracked and downloaded.
Generate dynamic calendar files that are both downloadable and tracked.
As a bonus, we are also providing you with a set of 140 useful web tools.
Connect your own domain or use our predefined ones.
Easiest way to categorize your managed resources.
Tracking pixels
These links seamlessly integrate with any of the following pixel providers.
Here's what people are saying
" I've been using BIO Link by UPILink.in for a while now, and it's been a game-changer for my online presence. It's super easy to use, and I love how I can customize my bio link page to match my brand. Highly recommended! "
" As a content creator, having a polished bio link page is essential. BIO Link by UPILink.in has made it effortless to showcase my latest content, social profiles, and more in one place. It's boosted my engagement and helped me connect with my audience better. Thanks, UPILink.in! "
" This service has saved me so much time. Instead of constantly updating multiple links on my social media profiles, I just update my BIO Link by UPILink.in, and all my important links are in one place. My click-through rates have gone up, and my audience loves it! "
Answers

for your common

questions
A bio link is a URL or hyperlink that is often found in the bio section of social media profiles, especially on platforms like Instagram and Twitter. It's used to direct followers or visitors to specific content, websites, or other online destinations.
A bio link is crucial because it provides a single point of access to relevant content or information you want to share with your audience. Instead of sharing multiple links in your posts, you can use the bio link to consolidate and organize your online presence.
You can typically add a bio link on social media platforms like Instagram, Twitter, TikTok, and LinkedIn. Some website builders and blogging platforms also allow you to add a bio link to your profile.
On most social media platforms, you can change your bio link by accessing your profile settings or editing your profile. Look for an option to edit your bio or profile information, and you'll find a field to update your bio link.